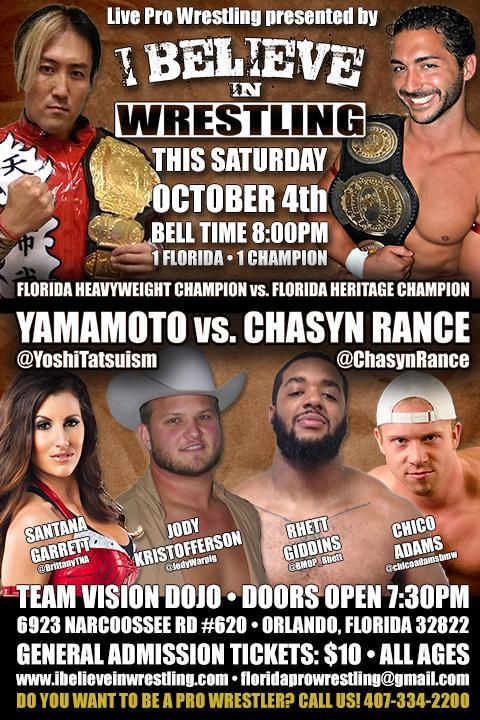 I Believe in Wrestling results from the Team Vision Dojo in Orlando, FL on October 4, 2014:
1. TNA iMPACT Knockout Santana Garrett beat Joey Mayberry
2. Brandon Scherer beat Gabriel Black
3. Mike Patrick & Leo Brien w/ Justin Michaels beat Boom Boom Groom & Sweet Thang Willie
4. Aaron Epic vs. Jason Cade ended in a 15 minute time limit draw
5. Chico Adams beat Rhett Giddins via DQ
6. Florida Heavyweight Champion #3 in the Indy Power Rankings Yamamoto beat Florida Heritage Champion Chasyn Rance
* After the match, Patrick and Brien came out to beat down Yamamoto and Rance but was saved by Aaron Epic who challenged the two to a tag match teaming with none other than Chasyn Rance. While Epic can't make matches official, Mister Saint Laurent entered the ring and said he could and he did!
I Believe in Wrestling returns in two weeks on Saturday, October 18, 2014 at 8pm. Chasyn Rance & Aaron Epic take on Mike Patrick & Leo Brien with Justin Michaels, plus Santana Garrett, Lince Dorado, Alex Pourteau, Chico Adams, Brandon Scherer, Gabirel Black, Joey Mayberry, and more!